Laser Distance Meter Market Trends, Share, Demand and Analysis 2023- Future Outlook, CAGR Growth, Business Opportunity and Forecast Research Report 2032: SPER Market Research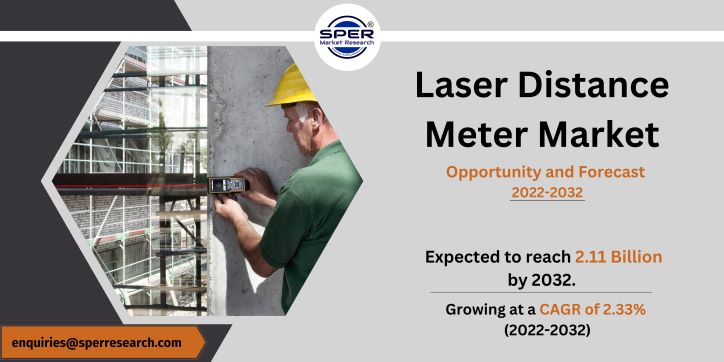 According to SPER Market Research, the Laser Distance Meter Market is estimated to reach USD 2.11 billion by 2032 with a CAGR of 2.33%. Laser distance metres employ laser beams to measure an object's size. It's common practise to utilise a laser distance metre to expedite measurement processes and so save a tonne of time. Additionally, a laser distance metre can assist with more accurate measurements up to +/- 1 mm at a range of angles. More and more people are using laser distance metres to measure things like carpeting, electrical wiring, furniture length, and interior design. Many solar energy solution providers also regularly use laser distance metres to locate where to instal and maintain panels. The last few years have witnessed major advancements in the weight, accuracy, and size of the laser distance metre.
Laser Distance Meter Market Overview (2022-2032)
Forecast CAGR (2022-2032): 2.33%
Forecast Market Size (2032): 2.11 billion
The global market for laser distance metres is predicted to grow at a steady rate in the years to come as a result of the growing use of laser distance metres in the construction sector for quick and precise measurement of floor dimensions. The increasing number of floor plan applications is one of the most significant factors that has encouraged the expansion of the global laser distance metre market. Numerous laser distance metre manufacturers have been working tirelessly to integrate laser distance metres with office computer systems in real-time, which has led to an increase in mobile applications that let users connect laser distance metres with their tablet and smartphone.
Impact of COVID-19 on the Laser Distance Meter Market
Due to the Covid 19 epidemic, the Laser Distance Meter market has seen a negative growth as all the companies were shut down during the pandemic lockdown. However, post pandemic a rapid growth has been seen in Global Laser Distance Meter Market. The widespread adoption of laser distance metres as a result of the accessibility of such apps is anticipated to increase demand for such devices in the near future. Another crucial aspect that is projected to drive the need for laser distance metres during the review period is customers' increased preference for digital measuring instruments for getting accurate results. It is anticipated that the rising demand for laser distance metres would increase competitiveness, putting pressure on prices from a number of local manufacturers and forcing various businesses to come up with new competitive tactics. The market for handheld laser distance metres is expanding as a result of the rising demand for digital measurement equipment. The demand for handheld laser distance metres is growing globally as a result of increased digitization in the field of metrology and growing demands for precise measurements in various applications, including the construction of buildings and roads. The expanding global construction industry is another significant factor driving the growth of handheld laser distance metres. The expansion of the construction industry is mostly attributable to an increase in global investment and the number of construction projects.
Request For Free Sample Report @  https://www.sperresearch.com/report-store/laser-distance-meter-market.aspx?sample=1
Laser Distance Meter Market Key Segments Covered
The SPER Market Research report seeks to give market dynamics, demand, and supply forecasts for the years up to 2032. This report contains statistics on product type segment growth estimates and forecasts.
By Application:
Building and Construction
Heating, Ventilation and Air Conditioning System
Metal and Mining industry
Military
By Range:
Max Range Below 30 Meters
Max Range 30 – 100 Meters
Max Range Above 100 Meters
By End User:
Architects
Engineers
Construction employees
Interior designers
Others
By Type:
By Region:
Asia-Pacific
Europe
Middle East & Africa
North America
Latin America
Laser Distance Meter Market Key Players:
This study provides market data by competitive landscape, revenue analysis, market segments and detailed analysis of key market players such as: Bosch, Danaher, Dong Guan Sndway, FLIR Systems, Inc., Fluke Corporation, Hexagon, Hilti Corporation, Leica Geosystems, Makita Corporation, PCE Instruments, Robert Bosch Tool Corporation, Shenzhen MileSeey, Stabila Messgerate Gustav Ullrich GmbH, Stanley Black & Decker Deutschland GmbH, Trimble, Inc.
For More Information, refer to below link:-
Laser Distance Meter Market Future Outlook
Related Reports:
Procurement Outsourcing Market Size- By Component, By Service Type, By Deployment Model, By Enterprise Size, By Application, By End User- Regional Outlook, Competitive Strategies and Segment Forecast to 2032
India Data Center and Cloud Services Market Size- By Data Center Industry, By Cloud Industry- Regional Outlook, Competitive Strategies and Segment Forecast to 2032
Follow Us –
LinkedIn | Instagram | Facebook | Twitter
Contact Us:
Sara Lopes, Business Consultant – U.S.A.
SPER Market Research
+1-347-460-2899